First-aid kit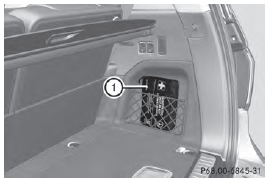 ■ Open the tailgate.
■ Remove first-aid kit 1 from the parcel net.
Check the expiration date on the first-aid kit at least once a year. Replace the contents if necessary, and replace missing items.
See also:
Washer fluid
Important safety notes WARNING Windshield washer concentrate is highly flammable. If it comes into contact with hot engine components or the exhaust system it could ignite. There is a risk of fir ...
Tire tread
WARNING Although the applicable federal motor vehicle safety laws consider a tire to be worn when the treadwear indicators (TWI) become visible at approximately 1/16 inches (1.6 mm), we recommend ...
Cleaning the wheels
WARNING Do not use power washers with circular-jet nozzles (dirt grinders) to clean your vehicle, in particular the tires. You could otherwise damage the tires and cause an accident. ...