Installing/removing the towing eye
Installing the towing eye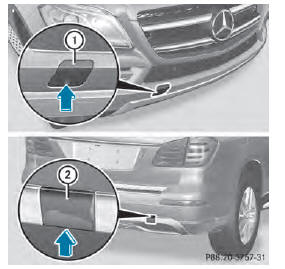 Example: towing eye mounting covers
1 Front cover
2 Back cover
Vehicles with a trailer tow hitch: if possible, connect the towbar to the trailer tow hitch .
The brackets for the screw-in towing eyes are located in the bumpers. They are at the front and at the rear, under the covers.
■ Remove the towing eye from the vehicle tool kit .
■ To open the cover at the front: press the mark on cover 1 inwards in the direction of the arrow.
■ To open the cover at the rear: insert a flat, blunt object into the cutout and lever cover 2 out of the bumper.
■ Take cover 1 or 2 off the opening.
■ Screw the towing eye in clockwise to the stop and tighten it.
Removing the towing eye
■ Loosen the towing eye and unscrew it.
■ Attach cover 1 or 2 to the bumper and press until it engages.
■ Place the towing eye in the vehicle tool kit.
See also:
Limited Warranty
Follow the instructions in this manual about the proper operation of your vehicle as well as about possible vehicle damage. Damage to your vehicle that arises from culpable contraventions agains ...
Off-road driving
Important safety notes WARNING Do not load items on the basic carrier bars. It may cause instability during some maneuvers which could result in an accident. Drive slowly in unknown terrain. Th ...
Towing a vehicle with both axles on the ground
It is important that you observe the safety instructions when towing away your vehicle . The automatic transmission automatically shifts to position P when you open the driver's or front-p ...