Installing/removing the towing eye
Installing the towing eye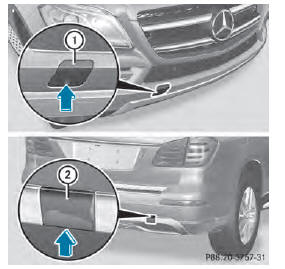 Example: towing eye mounting covers
1 Front cover
2 Back cover
Vehicles with a trailer tow hitch: if possible, connect the towbar to the trailer tow hitch .
The brackets for the screw-in towing eyes are located in the bumpers. They are at the front and at the rear, under the covers.
■ Remove the towing eye from the vehicle tool kit .
■ To open the cover at the front: press the mark on cover 1 inwards in the direction of the arrow.
■ To open the cover at the rear: insert a flat, blunt object into the cutout and lever cover 2 out of the bumper.
■ Take cover 1 or 2 off the opening.
■ Screw the towing eye in clockwise to the stop and tighten it.
Removing the towing eye
■ Loosen the towing eye and unscrew it.
■ Attach cover 1 or 2 to the bumper and press until it engages.
■ Place the towing eye in the vehicle tool kit.
See also:
Cleaning the vehicle parts
Cleaning the wheels Do not use acidic wheel cleaning products to remove brake dust. This could damage wheel bolts and brake components. Do not park the vehicle for an extended period straight aft ...
Storing wheels
Store tires that are not being used in a cool, dry and preferably dark place. Protect the tires from oil, grease, gasoline and diesel. ...
Opening and closing the side windows
The switches for all side windows are located on the driver's door. There is also a switch on each door for the corresponding side window. The switches on the driver's door take precedence. T ...