Installing/removing the towing eye
Installing the towing eye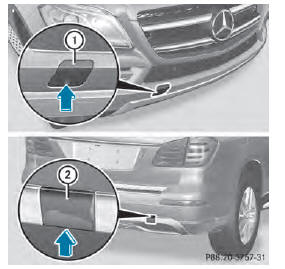 Example: towing eye mounting covers
1 Front cover
2 Back cover
Vehicles with a trailer tow hitch: if possible, connect the towbar to the trailer tow hitch .
The brackets for the screw-in towing eyes are located in the bumpers. They are at the front and at the rear, under the covers.
■ Remove the towing eye from the vehicle tool kit .
■ To open the cover at the front: press the mark on cover 1 inwards in the direction of the arrow.
■ To open the cover at the rear: insert a flat, blunt object into the cutout and lever cover 2 out of the bumper.
■ Take cover 1 or 2 off the opening.
■ Screw the towing eye in clockwise to the stop and tighten it.
Removing the towing eye
■ Loosen the towing eye and unscrew it.
■ Attach cover 1 or 2 to the bumper and press until it engages.
■ Place the towing eye in the vehicle tool kit.
See also:
Switching off the engine
Important safety notes WARNING If you switch off the ignition while driving, safety-relevant functions are only available with limitations, or not at all. This could affect, for example, the powe ...
Stowage compartment/ashtray
Stowage compartment/ashtray in the center console 1 Cover 2 Insert On new vehicles, insert 2 is stored in the glove box. Install the insert before using the ashtray. ► To open: press ...
NECK-PRO head restraints
Important safety notes WARNING Do not secure any objects (e.g. coat hangers) on the NECK-PRO head restraints. Otherwise, the NECK-PRO head restraints may not function properly, or in the event of ...