Fuse box in the engine compartment
Make sure that no moisture can enter the fuse box when the cover is open.
When closing the cover, make sure that it is lying correctly on the fuse box. Moisture seeping in or dirt could otherwise impair the operation of the fuses.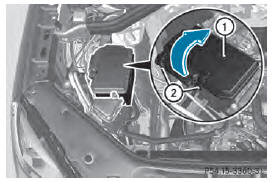 ■ Open the hood.
■ Remove any existing moisture from the fuse box using a dry cloth.
■ To open: open clamps 2.
■ Fold up cover 1 in the direction of the arrow and remove it.
■ To close: check whether the seal is seated correctly in cover 1.
■ Insert cover 1 at the side of the fuse box into the retainers.
■ Fold down cover 1 and close clamps 2.
■ Close the hood.
See also:
Flat tire
You can find information on what to do in the event of a flat tire in the "Breakdown assistance" section . Information on driving with MOExtended tires in the event of a flat tire ...
SmartKey positions
0 To remove the SmartKey 1 Power supply for some consumers, such as the windshield wipers 2 Ignition (power supply for all consumers) and drive position 3 To start the engine As soon as the ig ...
Important safety notes
WARNING Children could become trapped if they adjust the seats, particularly when unattended. There is a risk of injury. When leaving the vehicle, always take the SmartKey with you and lock t ...