Fuse box under the rear bench seat
Make sure that no moisture can enter the fuse box when the cover is open.
When closing the cover, make sure that it is lying correctly on the fuse box. Moisture seeping in or dirt could otherwise impair the operation of the fuses or the cover could be damaged by the rear bench seat.
Fold the left-hand rear bench seat forward .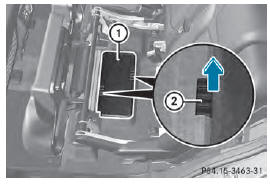 ■ To open: reach into recesses 2 on each side of fuse box cover 1.
■ Fold cover 1 up in the direction of the arrow and remove it from the fuse box.
The fuse allocation chart is located in a recess at the side of the fuse box.
■ To close: place cover 1 on the fuse box.
■ Press cover 1 down until you feel the clamps engage.
■ Fold back the left-hand rear bench seat .
See also:
BAS (Brake Assist System)
Observe the "Important safety notes" section . WARNING If BAS is malfunctioning, the braking distance in an emergency braking situation is increased. There is a risk of an accident ...
Operating safety
Safety notes WARNING Work improperly carried out on electronic components and associated software could cause them to cease functioning. Because the vehicle's electronic components are intercon ...