Tire tread
WARNING
Insufficient tire tread will reduce tire traction.
The tire is no longer able to dissipate water.
This means that on wet road surfaces, the risk of hydroplaning increases, in particular where speed is not adapted to suit the driving conditions. There is a risk of accident.
If the tire pressure is too high or too low, tires may exhibit different levels of wear at different locations on the tire tread. Thus, you should regularly check the tread depth and the condition of the tread across the entire width of all tires.
Minimum tire tread depth for: Х Summer tires:

in (3 mm)
Х M+S tires:

in (4 mm)
For safety reasons, replace the tires before the legally prescribed limit for the minimum tire tread depth is reached.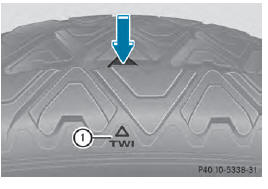 Bar indicator 1 for tread wear is integrated into the tire tread.
Treadwear indicators (TWI) are required by law. Six indicators are positioned on the tire tread. They are visible once the tread depth is approximately

in (1.6 mm). If
this is the case, the tire is so worn that it must be replaced.
See also:
Automatic locking feature
1 To deactivate 2 To activate ► To disarm: press and hold button 1 for about five seconds until a tone sounds. ► To arm: press and hold button 2 for about five seconds u ...
AMG menu in AMG vehicles
AMG displays 1 Digital speedometer 2 Gear indicator 3 Upshift indicator 4 Engine oil temperature 5 Coolant temperature 6 Status indicator (indicator not available in USA/Canada) ■ Pres ...
Hazard warning lamps
► To switch on the hazard warning lamps: press button 1. All turn signals flash. If you now switch on a turn signal using the combination switch, only the turn signal lamp on the corres ...