Tire tread
WARNING
Insufficient tire tread will reduce tire traction.
The tire is no longer able to dissipate water.
This means that on wet road surfaces, the risk of hydroplaning increases, in particular where speed is not adapted to suit the driving conditions. There is a risk of accident.
If the tire pressure is too high or too low, tires may exhibit different levels of wear at different locations on the tire tread. Thus, you should regularly check the tread depth and the condition of the tread across the entire width of all tires.
Minimum tire tread depth for: Х Summer tires:

in (3 mm)
Х M+S tires:

in (4 mm)
For safety reasons, replace the tires before the legally prescribed limit for the minimum tire tread depth is reached.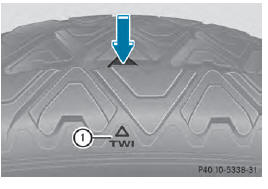 Bar indicator 1 for tread wear is integrated into the tire tread.
Treadwear indicators (TWI) are required by law. Six indicators are positioned on the tire tread. They are visible once the tread depth is approximately

in (1.6 mm). If
this is the case, the tire is so worn that it must be replaced.
See also:
Definition of terms for tires and loading
Tire ply composition and material used Describes the number of plies or the number of layers of rubber-coated fabric in the tire tread and sidewall. These are made of steel, nylon, polyester and ...
Seat belts
Important safety notes WARNING Always fasten your seat belt before driving off. Always make sure all of your passengers are properly restrained. You and your passengers should always wear seat ...