Engine oil
General notes
Never use engine oil or an oil filter of a specification other than is necessary to fulfill the prescribed service intervals. Do not change the engine oil or oil filter in order to achieve longer replacement intervals than those prescribed. You could otherwise cause engine damage or damage to the exhaust gas aftertreatment.
Follow the instructions in the service interval display regarding the oil change.
Otherwise, you may damage the engine and the exhaust gas aftertreatment.
Comply with the important safety notes for service products when handling engine oil .
The engine oils are matched to the performance of Mercedes-Benz engines and service intervals. You should therefore only use engine oils and oil filters that are approved for vehicles with maintenance systems.
For a list of approved engine oils and oil filters, consult an authorized Mercedes-Benz Center. Or visit the website http://bevo.mercedes-benz.com.
The table shows which engine oils have been approved for your vehicle.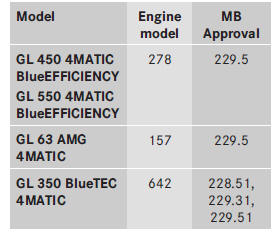 Use only SAE 0W-40 or SAE 5W-40 engine oils for AMG vehicles.
MB approval is indicated on the oil containers.
Filling capacities
The following values refer to an oil change including the oil filter.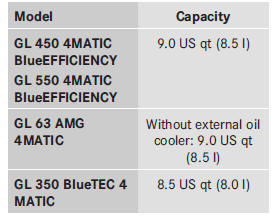 Additives
Do not use any additives in the engine oil.
This could damage the engine.
Engine oil viscosity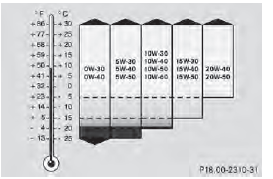 Viscosity describes the flow characteristics of a fluid. If an engine oil has a high viscosity, this means that it is thick; a low viscosity means that it is thin.
Select an engine oil with an SAE classification (viscosity) suitable for the prevailing outside temperatures. The table shows you which SAE classifications are to be used. The lowtemperature characteristics of engine oils can deteriorate significantly, e.g. as a result of aging, soot and fuel deposits. It is therefore strongly recommended that you carry out regular oil changes using an approved engine oil with the appropriate SAE classification.
Brake fluid
WARNING
The brake fluid constantly absorbs moisture from the air. This lowers the boiling point of the brake fluid. If the boiling point of the brake fluid is too low, vapor pockets may form in the brake system when the brakes are applied hard. This would impair braking efficiency.
There is a risk of an accident.
You should have the brake fluid renewed at the specified intervals.
Comply with the important safety notes for service products when handling brake fluid .
The brake fluid change intervals can be found in the Maintenance Booklet.
Only use brake fluid approved by Mercedes- Benz according to MB Approval 331.0.
Information about approved brake fluid can be obtained at any qualified specialist workshop or on the Internet at http://bevo.mercedes-benz.com.
Have the brake fluid regularly replaced at a qualified specialist workshop and have this confirmed in the Maintenance Booklet.
See also:
Keyless-go
General notes Bear in mind that the engine can be started by any of the vehicle occupants if there is a KEYLESS-GO key in the vehicle. Locking/unlocking centrally You can start, lock or unlock th ...
SmartKey battery
Important safety notes WARNING Batteries contain toxic and corrosive substances. If batteries are swallowed, it can result in severe health problems. There is a risk of fatal injury. Keep batt ...
Genuine Mercedes-Benz parts
All Mercedes-Benz Centers maintain a supply of genuine Mercedes-Benz parts for necessary service and repair work. In addition, strategically located parts delivery centers provide for quick and re ...