Centrally locking and unlocking the vehicle from the inside
WARNING
If children are left unsupervised in the vehicle, they could:
Х open the doors, thus endangering other people or road users.
Х get out and disrupt traffic.
Х operate the vehicle's equipment.
Additionally, children could set the vehicle in motion if, for example, they: Х release the parking brake.
Х shift the automatic transmission out of parking position P.
Х shift the manual transmission into neutral.
Х starting the engine.
There is a risk of an accident and injury.
When leaving the vehicle, always take the SmartKey with you and lock the vehicle. Never leave children or animals unattended in the vehicle. Always keep the SmartKey out of reach of children.
You can centrally lock or unlock the vehicle from the inside. This feature may be useful if, for example, you wish to unlock the frontpassenger door from the inside or lock the vehicle before you pull away.
The central locking button does not lock or unlock the fuel filler flap.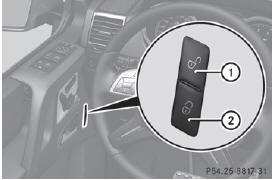 ► To unlock: press button 1.
► To lock: press button 2.
If all the doors and the tailgate are closed, the vehicle locks.
You can open a front door from inside the vehicle even if it has been locked. Only open the door when the traffic situation permits.
If the vehicle has been locked with the central locking button:
Х and the SmartKey is restored to the factory settings, the entire vehicle is unlocked if a front door is opened from inside the vehicle.
Х and the SmartKey is set to an individual setting, only the front door that is opened from inside the vehicle is unlocked.
If the vehicle has been locked centrally with the SmartKey, it does not unlock if you use the central locking button.
You cannot unlock the vehicle centrally from the inside if the vehicle has been locked from the outside using the SmartKey.
It is only possible to lock the vehicle centrally if all doors are closed.
See also:
Maintenance
The Service and Warranty Booklet describes all the necessary maintenance work which should be done at regular intervals. Always have the Service and Warranty Booklet with you when you bring the ...
Problems with the transmission
Transfer case Performance tests may only be carried out on a 2-axle dynamometer. The brake system or transfer case could otherwise be damaged. Contact a qualified specialist workshop for a perf ...
Cargo compartment cover
Important safety notes WARNING On its own, the cargo compartment cover cannot secure or restrain heavy objects, items of luggage and heavy loads. You could be hit by an unsecured load during sudd ...