Switching the seat ventilation on/off
Activating/deactivating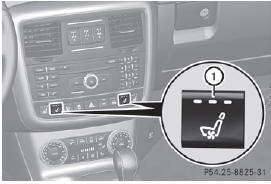 Seat ventilation is only available for the front seats.
The three blue indicator lamps in the buttons indicate the ventilation level you have selected.
► Make sure that the SmartKey is in position 2 in the ignition lock.
► To switch on: press button 1 repeatedly until the desired ventilation level is set.
If you open the side windows and the sliding sunroof using the SmartKey , the driver's seat ventilation automatically switches to the highest level.
► To switch off
: press button 1 repeatedly until all the indicator lamps go out.
If the battery voltage is too low, the seat ventilation may switch off.
Problems with the seat ventilation
If one or all of the indicator lamps in the seat ventilation button are flashing, the seat ventilation has switched off automatically.
The vehicle's electrical system voltage is too low because too many electrical consumers are switched on.
► Switch off electrical consumers that you do not need, such as the rear window defroster or interior lighting.
Once the battery is sufficiently charged, the seat ventilation will switch back on automatically.
See also:
Winter operation
General notes Have your vehicle winterproofed at a qualified specialist workshop at the onset of winter. Observe the notes in the "Changing a wheel" section . ...
Driving on wet roads
Hydroplaning If water has accumulated to a certain depth on the road surface, there is a danger of hydroplaning occurring, even if: Х you drive at low speeds. Х the tires have adequate tread dept ...
Speedometer with segments
The segments in the speedometer indicate which speed range is available. R Cruise control activated : The segments light up from the stored speed to the maximum speed. R Variable SPEEDTRONIC ...