Switching the seat ventilation on/off
Activating/deactivating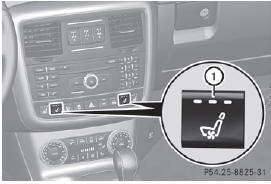 Seat ventilation is only available for the front seats.
The three blue indicator lamps in the buttons indicate the ventilation level you have selected.
► Make sure that the SmartKey is in position 2 in the ignition lock.
► To switch on: press button 1 repeatedly until the desired ventilation level is set.
If you open the side windows and the sliding sunroof using the SmartKey , the driver's seat ventilation automatically switches to the highest level.
► To switch off
: press button 1 repeatedly until all the indicator lamps go out.
If the battery voltage is too low, the seat ventilation may switch off.
Problems with the seat ventilation
If one or all of the indicator lamps in the seat ventilation button are flashing, the seat ventilation has switched off automatically.
The vehicle's electrical system voltage is too low because too many electrical consumers are switched on.
► Switch off electrical consumers that you do not need, such as the rear window defroster or interior lighting.
Once the battery is sufficiently charged, the seat ventilation will switch back on automatically.
See also:
Cargo compartment cover
Important safety notes WARNING On its own, the cargo compartment cover cannot secure or restrain heavy objects, items of luggage and heavy loads. You could be hit by an unsecured load during sudd ...
Information for customers in California
Under California law you may be entitled to a replacement of your vehicle or a refund of the purchase price or lease price, if after a reasonable number of repair attempts Mercedes-Benz USA, LLC a ...
Information on 4MATIC vehicles
Vehicles with 4MATIC must not be towed with either the front or the rear axle raised, as doing so will damage the transmission. If the vehicle has transmission damage or damage to the front or rea ...