Overview of interior lighting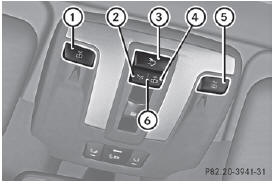 1

Switches the left-hand front
reading lamp on/off
2

Switches the front interior
lighting on
3

Switches the cargo compartment
lamp/rear interior lighting on/off
4

Switches the front interior
lighting/ automatic interior lighting control off
5

Switches the right-hand reading
lamp on/off
6 Switches the automatic interior lighting control on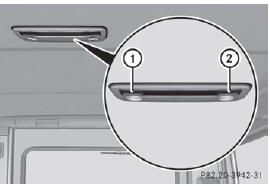 Rear-compartment overhead control panel
1

Switches the right-hand reading
lamp on/off
2

Switches the left-hand reading
lamp on/off
See also:
FreeType
Portions of this software are copyright © 2005 The FreeType Project (www.freetype.org). All rights reserved. © 1996-2000 by David Turner, Robert Wilhelm, and Werner Lemberg. ...
Activating/deactivating cooling with air dehumidification
Points to observe before use WARNING If you switch off the cooling function, the vehicle will not be cooled when weather conditions are warm. The windows can fog up more quickly. Window fogging m ...
Service interval display
Service messages Information on the type of service and service intervals (see the separate Maintenance Booklet). You can obtain further information from an authorized Mercedes-Benz Center or a ...