Switching the windshield wipers on/ off
WARNING
The windshield will not longer be wiped properly if the wiper blades are worn. This could prevent you from observing the traffic conditions, thereby causing an accident.
Replace the wiper blades twice a year, ideally in spring and fall.
Do not operate the windshield wipers when the windshield is dry, as this could damage the wiper blades. Moreover, dust that has collected on the windshield/rear window can scratch the glass if wiping takes place when the windshield/rear window is dry.
If it is necessary to switch on the windshield wipers in dry weather conditions, always use washer fluid when operating the windshield wipers.
If the windshield wipers leave smears on the windshield/rear window after the vehicle has been washed in an automatic car wash, this may be due to wax or other residue. Clean the windshield/rear window with washer fluid after an automatic car wash.
Intermittent wiping with rain sensor: due to optical influences and the windshield becoming dirty in dry weather conditions, the windshield wipers may be activated inadvertently. This could then damage the windshield wiper blades or scratch the windshield.
For this reason, you should always switch off the windshield wipers in dry weather.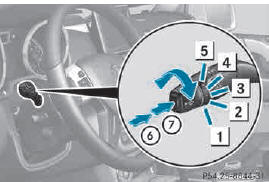 Combination switch
1

Windshield wipers off
2

Intermittent wipe, low (rain sensor
set to low sensitivity)
3

Intermittent wipe, high (rain
sensor set to high sensitivity) 4

Continuous wipe, slow
5

Continuous wipe, fast
6

Single wipe
7

To wipe with washer fluid
► Switch on the ignition.
► Turn the combination switch to the corresponding position.
Intermittent wiping is interrupted if you stop and open a front door. This protects people getting into and out of the vehicle from being sprayed with water.
Intermittent wiping continues when all doors are closed and:
Х you shift the automatic transmission to drive position D or reverse gear R or
Х you change the wipe setting on the combination switch.
In the

or


position, the appropriate
wiping frequency is set automatically according to the intensity of the rain. In the

position, the rain sensor is
more sensitive than in the

position,
causing the windshield wipers to wipe more frequently.
See also:
Removing the emergency spare wheel
Emergency spare wheel (example: vehicle without lockable cargo compartment floor) 1 Emergency spare wheel retainer 2 Stowage well 3 "Minispare" emergency spare wheel The "Minispa ...
Useful information
This Operator's Manual describes all models and all standard and optional equipment of your vehicle available at the time of publication of the Operator's Manual. Country-specific differences ...
Number of seats
Maximum number of seats 1 indicates the maximum number of occupants allowed to travel in the vehicle. This information can be found on the Tire and Loading Information placard. The specificat ...