Switching the windshield defroster on/off
WARNING
Any accumulation of snow and ice should be removed from the windshield before driving.
Otherwise, your vision may be impaired, which could endanger you or others.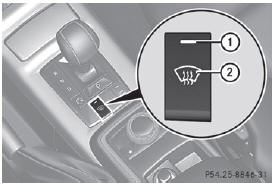 ► Turn the SmartKey to position 2 in the ignition lock.
► To switch on: press button 2.
Indicator lamp 1 lights up.
► To switch off: press button 2.
Indicator lamp 1 goes out.
At outside temperatures above 50 º F(10 º C), the windshield heating cannot be activated. Indicator lamp : lights up briefly when you attempt to activate it and then goes out again.
The windshield defroster has a high current draw. You should therefore switch it off as soon as the windshield is clear. The windshield heating otherwise switches itself off automatically after 10 minutes.
If you turn on the windshield heating for the fourth consecutive time, the windshield heating will automatically switch off after 5 minutes.
If the vehicle's electrical system voltage is too low because too many electrical consumers are switched on, indicator lamp 1 flashes. After approximately 30 seconds, the windshield heating turns off automatically.
See also:
Stowage areas
Stowage compartments Important safety notes WARNING To help avoid personal injury during a collision or sudden maneuver, exercise care when storing objects in the vehicle. Put luggage or cargo ...
Information about using dual-zone automatic climate control
The following contains notes and recommendations on optimum use of dualzone automatic climate control. • Activate climate control using the and buttons. The indicator lamps in the and but ...
Automatic anti-glare mirrors
WARNING If incident light from headlamps is prevented from striking the sensor in the rear-view mirror, for instance, by luggage piled too high in the vehicle, the mirror's automatic antiglare fu ...