Switching the windshield defroster on/off
WARNING
Any accumulation of snow and ice should be removed from the windshield before driving.
Otherwise, your vision may be impaired, which could endanger you or others.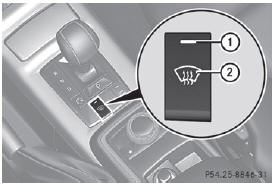 ► Turn the SmartKey to position 2 in the ignition lock.
► To switch on: press button 2.
Indicator lamp 1 lights up.
► To switch off: press button 2.
Indicator lamp 1 goes out.
At outside temperatures above 50 º F(10 º C), the windshield heating cannot be activated. Indicator lamp : lights up briefly when you attempt to activate it and then goes out again.
The windshield defroster has a high current draw. You should therefore switch it off as soon as the windshield is clear. The windshield heating otherwise switches itself off automatically after 10 minutes.
If you turn on the windshield heating for the fourth consecutive time, the windshield heating will automatically switch off after 5 minutes.
If the vehicle's electrical system voltage is too low because too many electrical consumers are switched on, indicator lamp 1 flashes. After approximately 30 seconds, the windshield heating turns off automatically.
See also:
Garage door opener
Important safety notes WARNING When you operate or program the garage door with the integrated garage door opener, persons in the range of movement of the garage door can become trapped or struck ...
Notes on towing a trailer
Important safety notes WARNING If you rest your foot on the brake pedal while driving, the braking system can overheat. This increases the stopping distance and can even cause the braking system ...
Fuse box under the rear bench seat
Make sure that no moisture can enter the fuse box when the cover is open. When closing the cover, make sure that it is lying correctly on the fuse box. Moisture seeping in or dirt could otherwise ...