SmartKey positions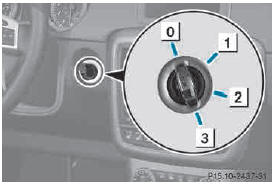 0 To remove the SmartKey 1 Power supply for some consumers, such as the windshield wipers 2 Ignition (power supply for all consumers) and drive position
3 To start the engine
As soon as the ignition is switched on, all the indicator lamps in the instrument cluster light up. If an indicator lamp does not go out after starting the engine or lights up while driving, see .
If the SmartKey is in position 0 in the ignition lock for an extended period of time, it can no longer be turned in the ignition lock. The steering is then locked. To unlock, remove the SmartKey and reinsert it into the ignition lock.
The steering is locked when you remove the SmartKey from the ignition lock.
► Remove the SmartKey when the engine is switched off.
The starter battery could otherwise be discharged.
If you cannot turn the SmartKey in the ignition lock, the starter battery may not be charged sufficiently.
► Check the starter battery and charge it if necessary .
or
► Jump-start the vehicle .
You can only remove the SmartKey if: Rthe SmartKey is in position 0 in the ignition lock.
Rthe automatic transmission selector lever is in P.
See also:
Important safety notes
WARNING Objects in the driver's footwell can restrict the pedal travel or obstruct a depressed pedal. The operating and road safety of the vehicle is jeopardized. There is a risk of an accident. ...
Trip menu
Standard display ► Press and hold the button on the steering wheel until the Trip menu with trip odometer 1 and odometer 2 is shown. Trip computer "From start" or "From ...
Air bags
Important safety notes WARNING Air bags are designed to reduce the potential of injury and fatality in certain Х frontal impacts (front air bags) Х side impacts (window curtain air bags) However ...