Stowage compartment/ashtray
Stowage compartment/ashtray in the center console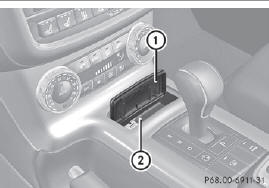 1 Cover
2 Insert
On new vehicles, insert 2 is stored in the glove box. Install the insert before using the ashtray.
► To open: press cover 1 and then release it.
The ashtray opens.
► To remove the insert: make sure that the engine is switched off and that the parking brake has been applied to secure the vehicle against rolling away.
► Move the selector lever to N.
► Press down cover 1.
Insert 2 is released.
► Pull insert 2 upwards and remove it.
► To install the insert: install insert ; from above.
► Push insert 2 down.
Insert 2 audibly engages.
► To close: close cover 1 fully.
The ashtray is lit up if the low-beam headlamps are on.
Ashtray in the rear compartment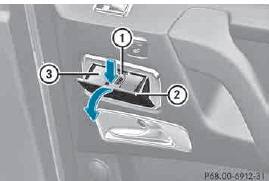 ► To
open
: fold cover 2 out in the direction of the arrow.
► To
remove
the
insert
: press retaining lug 1 and pull insert 3 upwards and out.
► To
install
the
insert
: install insert 3 from above.
► To
close
: close cover 2 fully.
See also:
Flat tire
Preparing the vehicle ► Stop the vehicle on solid, non-slippery and level ground, as far away as possible from traffic. ► Switch on the hazard warning lamps . ► Apply the parki ...
Before changing a fuse
X Secure the vehicle against rolling away . ■ Switch off all electrical consumers. ■ Turn the SmartKey to position 0 in the ignition lock and remove it . On vehicles with ...
Important safety notes
WARNING Work improperly carried out on electronic components and associated software could cause them to cease functioning. Because the vehicle's electronic components are interconnected, any mod ...