Stowage compartment/ashtray
Stowage compartment/ashtray in the center console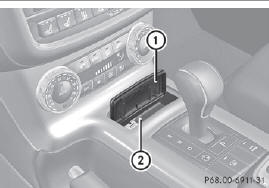 1 Cover
2 Insert
On new vehicles, insert 2 is stored in the glove box. Install the insert before using the ashtray.
► To open: press cover 1 and then release it.
The ashtray opens.
► To remove the insert: make sure that the engine is switched off and that the parking brake has been applied to secure the vehicle against rolling away.
► Move the selector lever to N.
► Press down cover 1.
Insert 2 is released.
► Pull insert 2 upwards and remove it.
► To install the insert: install insert ; from above.
► Push insert 2 down.
Insert 2 audibly engages.
► To close: close cover 1 fully.
The ashtray is lit up if the low-beam headlamps are on.
Ashtray in the rear compartment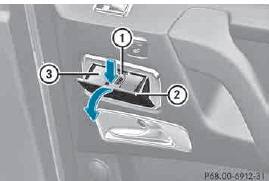 ► To
open
: fold cover 2 out in the direction of the arrow.
► To
remove
the
insert
: press retaining lug 1 and pull insert 3 upwards and out.
► To
install
the
insert
: install insert 3 from above.
► To
close
: close cover 2 fully.
See also:
Switching the seat ventilation on/off
Activating/deactivating Seat ventilation is only available for the front seats. The three blue indicator lamps in the buttons indicate the ventilation level you have selected. ► Make ...
Floormat on the driver's side
WARNING Whenever you are using a floormat, make sure there is enough clearance and that the floormat is securely fastened. The floormat should always be securely fastened using the fastening eq ...
Driving tips
General driving tips Important safety notes WARNING Always remember that you must concentrate primarily on driving the vehicle. The driver's concentration must always be directed primarily at r ...