Operation
Notes on driving
- If the vehicle is heavily laden, check the tire pressures and correct them if necessary.
- When parking your vehicle, make sure that the tires do not get deformed by the curb or other obstacles. If it is necessary to drive over curbs, speed humps or similar elevations, try to do so slowly and at an obtuse angle. Otherwise, the tires, particularly the sidewalls, can get damaged.
Notes on regularly inspecting wheels and tires

WARNING
Regularly check the tires for damage.
Damaged tires can cause tire inflation pressure loss. As a result, you could lose control of your vehicle.
Worn, old tires can cause accidents. If the tire tread is worn to minimum tread depth, or if the tires have sustained damage, replace them.
- Regularly check the wheels and tires of your vehicle for damage (e.g. cuts, punctures, tears, bulges on tires and deformation or cracks or severe corrosion on wheels) at least once a month, as well as after driving off-road or on rough roads.
Damaged wheels can cause a loss of tire pressure.
- Regularly check the tire tread depth and the condition of the tread across the whole width of the tire. If necessary, turn the front wheels to full lock in order to inspect the inner side of the tire surface.
- All wheels must have a valve cap to protect the valve against dirt and moisture. Do not mount anything onto the valve (such as tire pressure monitoring systems) other than the standard valve cap or other valve caps approved by Mercedes-Benz for your vehicle.
- Regularly check the pressure of all the tires including the emergency spare wheel or the spare wheel, particularly prior to long trips, and correct the pressure as necessary.
Tire tread

WARNING
Although the applicable federal motor vehicle safety laws consider a tire to be worn when the tread wear indicators (TWI) become visible at approximately 1/16 in (1.6 mm), we recommend that you do not allow your tires to wear down to that level. As tread depth approaches 1/8 in (3 mm), the adhesion properties on a wet road are sharply reduced.
Depending upon the weather and/or road surface (conditions), the tire traction varies widely.
Do not use tires that are excessively worn as the tire traction on wet road surfaces decreases significantly when the tread depth is less than 1/8 inch (3 mm).
Tread wear indicators (TWI) are required by law. Six indicators are positioned on the tire tread. They become visible as soon as a tread depth of approximately 1/16 inch (1.6 mm) has been reached. If this is the case, the tire is so worn that it must be replaced.
The recommended tread depth for summer tires is at least 1/8 inch (3 mm). The recommended tread depth for winter tires is at least 1/6 inch (4 mm).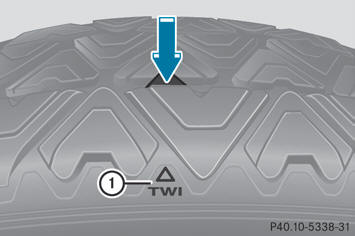 Bar marking 1 for tread wear is integrated into the tire tread.
Notes on selecting, mounting and replacing tires
- Only mount tires and wheels of the same type and make.
- Only mount tires of the correct size onto the wheels.
- After mounting new tires, run them in at moderate speeds for the first 60 miles (100 km) as they only reach their full performance after this distance.
- Do not use tires that are excessively worn as the tire traction on wet road surfaces decreases significantly when the tread depth is less than 1/8 inch (3 mm).
- Replace the tires after six years at the latest, regardless of wear. This also applies to the spare wheel/emergency spare wheel.
The service life of tires depends on the following factors amongst other things: - driving style
- tire pressure
- mileage
MOExtended tires (tires with run-flat properties)
MOExtended tires (tires with run-flat properties) allow you to continue driving your vehicle even if one or more tires are entirely deflated.
MOExtended tires may be used only in conjunction with the activated tire pressure loss warning system or the activated tire pressure monitoring system and only on wheels specifically tested by Mercedes-Benz.
You will find notes on driving with MOExtended tires in the "Breakdown assistance" section.
See also:
Determining the correct load limit
Step-by-step instructions The following steps have been developed as required of all manufacturers under Title 49, Code of U.S. Federal Regulations, Part 575 pursuant to the "National Traffic ...
Decoupling a trailer
WARNING If you uncouple a trailer with the overrun brake engaged, you could trap your hand between the vehicle and the trailer drawbar. There is a risk of injury. Do not uncouple a trailer if ...
AMG menu in AMG vehicles
AMG displays 1 Digital speedometer 2 Gear indicator 3 Upshift indicator 4 Engine oil temperature 5 Coolant temperature 6 Status indicator (indicator not available in USA/Canada) ■ Pres ...