Maximum load rating

WARNING
Do not overload the tires by exceeding the specified load limit as indicated on the Tire and Loading Information placard on the driver's door B-pillar. Overloading the tires can overheat them, possibly causing a blowout. Overloading the tires can also result in handling or steering problems, or brake failure.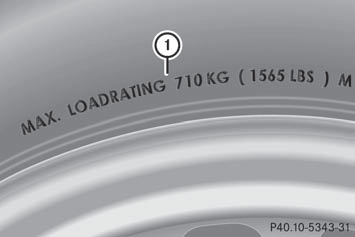 The actual values for tires are specific to each vehicle and may deviate from the values in the illustration.
Maximum tire load 1 is the maximum permitted weight for which the tire is approved.
Further information on tire loads.
See also:
Control panel for 3-zone automatic climate control with additional rearcompartment climate control
Canada only Front control panel 1 Sets the temperature, left 2 Defrosts the windshield 3 Switches the ZONE function on/off 4 Activates/deactivates cooling with air dehumidi ...
Defrosting the windows
Windows fogged up on the inside ► Activate the cooling with air dehumidification function. ► Activate automatic mode . ► If the windows continue to fog up, activate the defrost ...
Cockpit
1 Steering wheel paddle shifters 2 Combination switch 3 Instrument cluster 4 Horn 5 DIRECT SELECT lever 6 PARKTRONIC warning display 7 Overhead control panel 8 Climate control systems 9 Igni ...