Unlocking the driver's door (mechanical key)
If the vehicle can no longer be unlocked with the SmartKey, use the mechanical key.
If you use the mechanical key to unlock and open the driver's door, the anti-theft alarm system will be triggered .
■ Take the mechanical key out of the SmartKey .
■ Insert the mechanical key into the lock of the driver's door as far as it will go.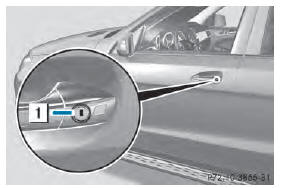 1 To unlock X Turn the mechanical key counter-clockwise to position 1.
The door is unlocked.
■ Turn the mechanical key back and remove it.
■ Insert the mechanical key into the SmartKey.
See also:
Warranty
Your vehicle is covered under the terms of the warranties printed in the Service and Warranty Information booklet. Your authorized Mercedes-Benz Center will replace and repair all factory-installe ...
Important safety notes
New and replaced brake pads and discs only reach their optimum braking effect after several hundred kilometers of driving. Compensate for this by applying greater force to the brake pedal. ...
Unlocking and opening doors from the inside
You can open a door from inside the vehicle even if it has been locked. You can only open the rear doors from inside the vehicle if they are not secured by the child-proof locks . If the ve ...