Tailgate emergency release
Important safety notes
The tailgate swings upwards and to the rear when opened. Therefore, make sure that there is sufficient clearance above and behind the tailgate.
Tailgate opening dimensions .
If the tailgate can no longer be opened from outside the vehicle, use the emergency release on the inside of the tailgate.
Opening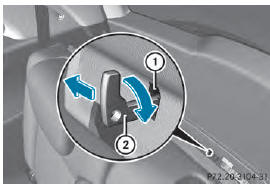 ■ Take the mechanical key out of the SmartKey .
■ Insert mechanical key 2 into the opening in paneling 1.
■ Turn mechanical key 2 90° clockwise.
■ Push mechanical key 2 in the direction of the arrow and open the tailgate.
See also:
Important safety notes
WARNING Objects in the driver's footwell can restrict the pedal travel or obstruct a depressed pedal. The operating and road safety of the vehicle is jeopardized. There is a risk of an accident. ...
Parking the vehicle for a long period
If you leave the vehicle parked for longer than four weeks, the battery may be damaged by exhaustive discharging. ■ Connecting a trickle charger. You can obtain information about trickle ch ...
Driving systems
...