Stowage nets
WARNING
Vehicles with the Occupant Classification System (OCS): If the gross weight of the objects in the stowage net on the back of the frontpassenger seat is greater than 4.4 lb (2 kg), OCS cannot correctly assess the occupant's weight category. The front-passenger front air bag could deploy without cause, or may fail to deploy in the event of an accident. This poses an increased risk of injury or even fatal injury.
Never exceed the permissible gross weight of 4.4 lb (2 kg). Stow and secure heavy objects in the cargo compartment.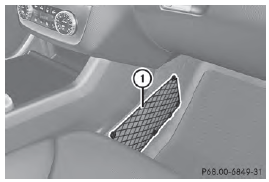 1 Stowage net in front-passenger footwell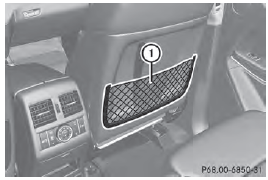 1 Stowage net on the back of the front seats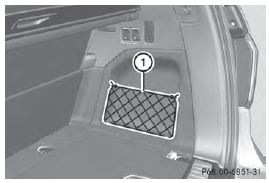 1 Stowage net in cargo compartmentObserve the loading guidelines and the safety notes regarding stowage spaces .
See also:
Determining the correct load limit
Step-by-step instructions The following steps have been developed as required of all manufacturers under Title 49, Code of U.S. Federal Regulations, Part 575 pursuant to the "National Traffic ...
Before changing a fuse
X Park the vehicle and apply the parking brake. ► Switch off all electrical consumers. ► Remove the SmartKey from the ignition lock. All indicator lamps in the instrument cluster m ...
Data stored in the vehicle
Information about electronic data acquisition in the vehicle (Including notice pursuant to California Code § 9951) Your vehicle records electronic data. If your vehicle is equipped with mbrace (C ...