Stowage nets
WARNING
Vehicles with the Occupant Classification System (OCS): If the gross weight of the objects in the stowage net on the back of the frontpassenger seat is greater than 4.4 lb (2 kg), OCS cannot correctly assess the occupant's weight category. The front-passenger front air bag could deploy without cause, or may fail to deploy in the event of an accident. This poses an increased risk of injury or even fatal injury.
Never exceed the permissible gross weight of 4.4 lb (2 kg). Stow and secure heavy objects in the cargo compartment.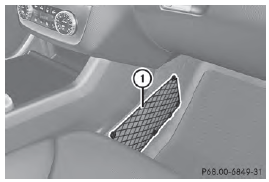 1 Stowage net in front-passenger footwell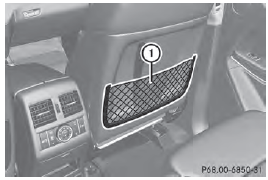 1 Stowage net on the back of the front seats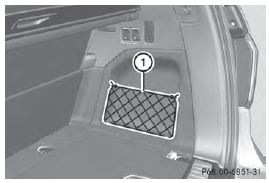 1 Stowage net in cargo compartmentObserve the loading guidelines and the safety notes regarding stowage spaces .
See also:
Steer control
Observe the "Important safety notes" section . STEER CONTROL helps you by transmitting a noticeable steering force to the steering wheel in the direction required for vehicle stabi ...
Declarations of conformity
Vehicle components which receive and/or transmit radio waves USA: "The wireless devices of this vehicle comply with Part 15 of the FCC Rules. Operation is subject to the following two cond ...
ESP® (Electronic Stability Program)
Important safety notes Observe the "Important safety notes" section . WARNING If ESP® is malfunctioning, ESP® is unable to stabilize the vehicle. Additionally, further driving safety s ...