Stowage nets
WARNING
Vehicles with the Occupant Classification System (OCS): If the gross weight of the objects in the stowage net on the back of the frontpassenger seat is greater than 4.4 lb (2 kg), OCS cannot correctly assess the occupant's weight category. The front-passenger front air bag could deploy without cause, or may fail to deploy in the event of an accident. This poses an increased risk of injury or even fatal injury.
Never exceed the permissible gross weight of 4.4 lb (2 kg). Stow and secure heavy objects in the cargo compartment.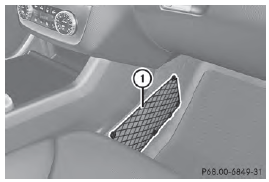 1 Stowage net in front-passenger footwell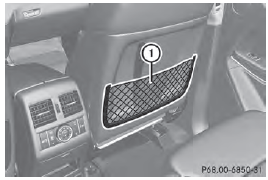 1 Stowage net on the back of the front seats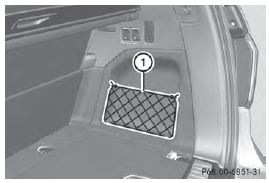 1 Stowage net in cargo compartmentObserve the loading guidelines and the safety notes regarding stowage spaces .
See also:
Cargo compartment cover
Important safety notes WARNING On its own, the cargo compartment cover cannot secure or restrain heavy objects, items of luggage and heavy loads. You could be hit by an unsecured load during sudd ...
Combination switc
Turn signals 1 High-beam headlamps 2 Turn signal, right 3 High-beam flasher 4 Turn signal, l ► To indicate briefly: press the combination switch briefly to the pressure point in the dir ...
Towing e
Towing eyes, front 1 Towing eyes, front Towing eye, rear Rear towing eye 1 is located under the bumper, on the left-hand side when viewed in the direction of travel. ...