Fuse box in the engine compartment
Make sure that no moisture can enter the fuse box when the cover is open.
When closing the cover, make sure that it is lying correctly on the fuse box. Moisture seeping in or dirt could otherwise impair the operation of the fuses.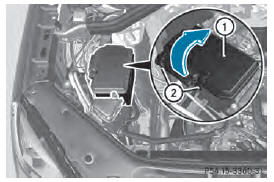 ■ Open the hood.
■ Remove any existing moisture from the fuse box using a dry cloth.
■ To open: open clamps 2.
■ Fold up cover 1 in the direction of the arrow and remove it.
■ To close: check whether the seal is seated correctly in cover 1.
■ Insert cover 1 at the side of the fuse box into the retainers.
■ Fold down cover 1 and close clamps 2.
■ Close the hood.
See also:
Settings menu
Introduction Example: settings menu In the Sett. menu, you have the following options: Х changing the instrument cluster settings Х changing the light settings Х changing the vehicle setting ...
Hood
Important safety notes WARNING Do not pull the release lever while the vehicle is in motion. Otherwise, the hood could be forced open by passing air flow. This could cause the hood to come loos ...
Tachometer
Do not drive in the overrevving range, as this could damage the engine. The red band in the tachometer indicates the engine's overrevving range. The fuel supply is interrupted to protect the ...