Securing cargo
Important safety notes
WARNING
Distribute the load on the cargo tie down rings evenly.
Otherwise, vehicle occupants could be injured by objects being thrown around if you: Х brake sharply Х change direction suddenly Х are involved in an accident
Please observe the loading guidelines.
Observe the following notes on securing loads:
Х secure the load using the cargo tie-down rings.
Х do not use elastic straps or nets to secure a load, as these are only intended as an anti-slip protection for light loads.
Х do not route tie-downs across sharp edges or corners.
Х pad sharp edges for protection.
Х only use tie downs that have been checked in accordance with applicable standards, e.g. lashing nets or lashing straps.
Х fill the spaces between the load and the cargo compartment walls and the wheel mountings in a form-locking way. Only use dimensionally stable transportation aids for this, such as chocks, wooden fixings or padding.
Cargo tie-down rings in the cargo compartment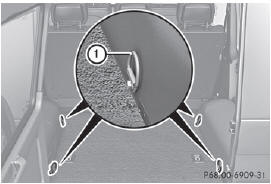 There are four cargo tie-down rings 1 mounted at the sides in the cargo compartment.
See also:
Important safety notes
New and replaced brake pads and discs only reach their optimum braking effect after several hundred kilometers of driving. Compensate for this by applying greater force to the brake pedal. ...
Additional service products
Checking the coolant level WARNING In order to avoid potentially serious burns: Х use extreme caution when opening the hood if there are any signs of vapor or coolant leaking from the cooling sys ...
Snow chains
WARNING If snow chains are installed to the front wheels, they may drag against the vehicle body or chassis components. This could cause damage to the vehicle or the tires. There is a risk of a ...