Securing cargo
Important safety notes
WARNING
Distribute the load on the cargo tie down rings evenly.
Otherwise, vehicle occupants could be injured by objects being thrown around if you: Х brake sharply Х change direction suddenly Х are involved in an accident
Please observe the loading guidelines.
Observe the following notes on securing loads:
Х secure the load using the cargo tie-down rings.
Х do not use elastic straps or nets to secure a load, as these are only intended as an anti-slip protection for light loads.
Х do not route tie-downs across sharp edges or corners.
Х pad sharp edges for protection.
Х only use tie downs that have been checked in accordance with applicable standards, e.g. lashing nets or lashing straps.
Х fill the spaces between the load and the cargo compartment walls and the wheel mountings in a form-locking way. Only use dimensionally stable transportation aids for this, such as chocks, wooden fixings or padding.
Cargo tie-down rings in the cargo compartment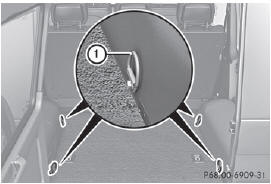 There are four cargo tie-down rings 1 mounted at the sides in the cargo compartment.
See also:
Service and literature
Your vehicle is covered under the terms of the warranties printed in the Service and Warranty Information booklet. Your authorized Mercedes-Benz Center will exchange or repair any defective parts ...
Important safety notes
WARNING If the engine speed is above the idling speed and you engage transmission position D or R, the vehicle could pull away suddenly. There is a risk of an accident. When engaging transmissi ...
Exterior lighting
Important safety notes For reasons of safety, Mercedes-Benz recommends that you drive with the lights switched on even during the daytime. In some countries, operation of the headlamps varies due ...