Securing cargo
Important safety notes
WARNING
Distribute the load on the cargo tie down rings evenly.
Otherwise, vehicle occupants could be injured by objects being thrown around if you: Х brake sharply Х change direction suddenly Х are involved in an accident
Please observe the loading guidelines.
Observe the following notes on securing loads:
Х secure the load using the cargo tie-down rings.
Х do not use elastic straps or nets to secure a load, as these are only intended as an anti-slip protection for light loads.
Х do not route tie-downs across sharp edges or corners.
Х pad sharp edges for protection.
Х only use tie downs that have been checked in accordance with applicable standards, e.g. lashing nets or lashing straps.
Х fill the spaces between the load and the cargo compartment walls and the wheel mountings in a form-locking way. Only use dimensionally stable transportation aids for this, such as chocks, wooden fixings or padding.
Cargo tie-down rings in the cargo compartment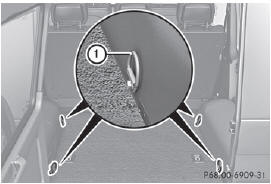 There are four cargo tie-down rings 1 mounted at the sides in the cargo compartment.
See also:
Trailer towing
Notes on towing a trailer Important safety notes WARNING When towing a trailer, incorrect equipment and driving style could cause you to lose control of the vehicle. Towing incorrectly or not o ...
General notes
For safety reasons, Mercedes-Benz recommends that you only use tires and wheels which have been approved by Mercedes-Benz specifically for your vehicle. These tires have been specially adapted fo ...