Wheel and tire combinations
Please bear the following in mind


For safety reasons, Mercedes-Benz recommends that you only use Tires and wheels which have been approved by Mercedes-Benz specifically for your vehicle.
These tires have been specially adapted for use with the control systems, such as ABS or ESPЃ, and are marked as follows: - MO = Mercedes-Benz Original - MOE = Mercedes-Benz Original Extended (tires featuring run-flat characteristics) - MO1 = Mercedes-Benz Original (only certain AMG tires)
Mercedes-Benz Original Extended tires may only be used on wheels that have been specifically approved by Mercedes-Benz.
Only use tires, wheels or accessories tested and approved by Mercedes-Benz.
Certain characteristics, e.g. handling, vehicle noise emissions or fuel consumption, may otherwise be adversely affected. In addition, when driving with a load, tire dimension variations could cause the tires to come into contact with the bodywork and axle components. This could result in damage to the tires or the vehicle.
Mercedes-Benz accepts no liability for damage resulting from the use of tires, wheels or accessories other than those tested and approved.
Further information about tires, wheels and approved combinations can be obtained from any authorized Mercedes-Benz Center.

The Tire and Load Information placard with the recommended tire pressures is attached to the B-pillar on the driver's side.
Further information about driving at high speeds or driving with vehicle loads that are lighter than the maximum vehicle load can be found in the tire pressure table on the inside of the fuel filler flap. Check tire pressures regularly, and only when the tires are cold. Comply with the maintenance recommendations of the tire manufacturer in the vehicle document wallet.
For further information on the recommended tire inflation pressure and on tire pressures for specific driving conditions.

Notes on the vehicle equipment Ц always equip the vehicle:
- with tires of the same size on a given axle (left/right)
- with the same type of tires at a given time (summer tires, winter tires, MOExtended tires)

On the following pages, you can find information on approved wheel rims and tire sizes for equipping your vehicle with winter tires. Winter tires are not available ex factory as standard equipment or optional extras.
If you want to equip your vehicle with approved winter tires, it may be necessary to obtain wheel rims in the corresponding size, as the size of the approved winter tires may differ from the standard tires. This is dependent on the model and the equipment installed at the factory.
The tires and wheel rims, as well as further information, can be obtained at a qualified specialist workshop, e.g. at an authorized Mercedes-Benz Center.

Overview of abbreviations used in the following tire tables:
- BA: both axles
- FA: front axle
- RA: rear axle
In the following table, the wheel/tire combinations are allocated to the vehicle models through variants, e.g. V1, V2 etc.:

Tires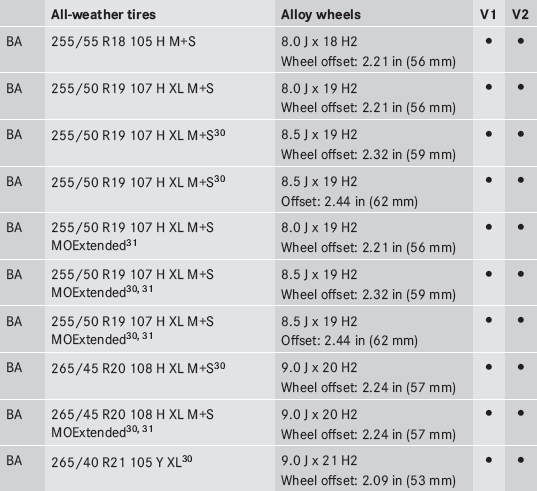 30 Use of snow chains not permitted. Observe the notes in the "Snow chains" section.
31 MOExtended tires (tires featuring run-flat characteristics) only in combination with an activated tire pressure loss warning system or tire pressure monitor.
32 Not available from the factory.

"Minispare" emergency spare wheel


The specified tire pressure is printed in yellow on the emergency spare wheel.
See also:
Genuine Mercedes-Benz parts
All Mercedes-Benz Centers maintain a supply of genuine Mercedes-Benz parts for necessary service and repair work. In addition, strategically located parts delivery centers provide for quick and re ...
Combination switch
Turn signal 1 High-beam headlamps 2 Turn signal, right 3 High-beam flasher 4 Turn signal, left ■ To indicate briefly: press the combination switch briefly to the pressure point in the d ...
Important safety notes
Your vehicle may be equipped with a sliding sunroof or a panorama roof with power tilt/ sliding panel. In this section, the term "sliding sunroof" refers to both types of sliding sunroof ...