Cockpit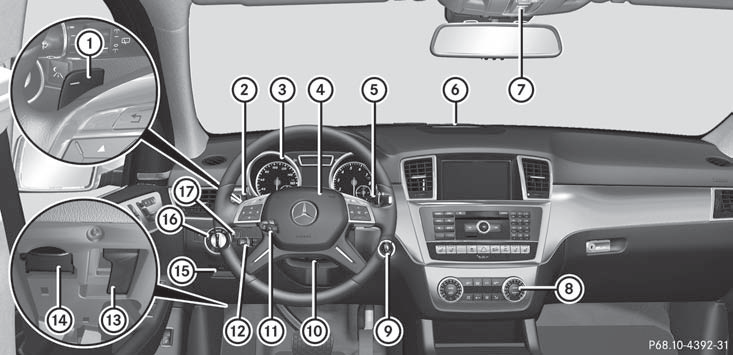 1 Steering wheel paddle shifters 2 Combination switch
3 Instrument cluster
4 Horn
5 DIRECT SELECT lever
6 PARKTRONIC warning display 7 Overhead control panel 8 Climate control systems 9 Ignition lock
Start/Stop button
10 Adjusts the steering wheel manually 11 Adjusts the steering wheel electrically Steering wheel heating
12 Cruise control lever
13 Opens the hood
14 On-board diagnostic interface 15 Electric parking brake 16 Light switch
17 Night View Assist Plus
See also:
Driving systems
...
Occupant safety
Overview of occupant safety In this section, you will learn the most important facts about the restraint system components of the vehicle. The restraint system consists of: - seat belts - child ...
Adjusting the head restraints
Important safety notes WARNING For safety reasons, always drive with the rear head restraints in the upright position when the rear seats are occupied. Keep the area around head restraints clea ...