Cockpit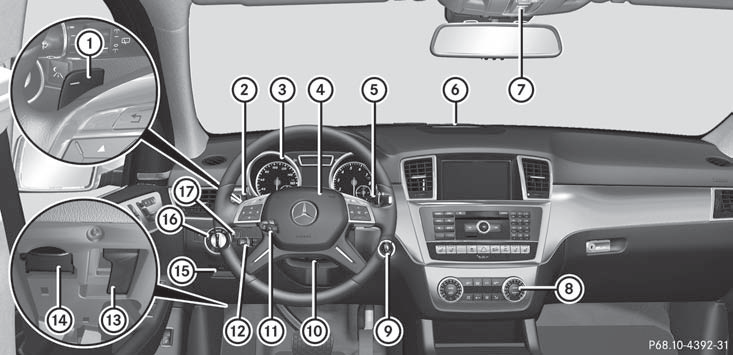 1 Steering wheel paddle shifters 2 Combination switch
3 Instrument cluster
4 Horn
5 DIRECT SELECT lever
6 PARKTRONIC warning display 7 Overhead control panel 8 Climate control systems 9 Ignition lock
Start/Stop button
10 Adjusts the steering wheel manually 11 Adjusts the steering wheel electrically Steering wheel heating
12 Cruise control lever
13 Opens the hood
14 On-board diagnostic interface 15 Electric parking brake 16 Light switch
17 Night View Assist Plus
See also:
Important safety notes
WARNING Only use fuses that have been approved for Mercedes-Benz vehicles and that have the correct fuse rating for the systems concerned. Do not attempt to repair or bridge faulty fuses. Using f ...
Tire characteristics
This information describes the type of tire cord and the number of layers in sidewall 1 and under tire tread 2. Tire data is vehicle-specific and may deviate from the data in the example. ...
Off-road driving systems
4MATIC (permanent four-wheel drive) 4MATIC ensures that all four wheels are permanently driven. Together with ESP® and 4ETS, it improves the traction of your vehicle whenever a drive wheel spins d ...