Locking the vehicle (mechanical key)
If the vehicle can no longer be locked with the SmartKey, use the mechanical key.
■ Open the driver's door.
■ Close the front-passenger door, the rear doors and the tailgate.
■ Press the locking button .
■ Check whether the locking knobs on the front-passenger door and the rear doors are still visible. Press down the locking knobs manually, if necessary .
■ Close the driver's door.
■ Take the mechanical key out of the SmartKey .
■ Insert the mechanical key into the lock of the driver's door as far as it will go.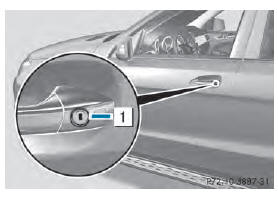 1 To lock
■ Turn the mechanical key clockwise as far as it will go to position 1.
■ Turn the mechanical key back and remove it.
■ Make sure that the doors and the tailgate are locked.
■ Insert the mechanical key into the SmartKey.
If you lock the vehicle as described above, the fuel filler flap is not locked. The antitheft alarm system is not armed.
See also:
Limited Warranty
! Follow the instructions in this manual about the proper operation of your vehicle as well as about possible vehicle damage. Damage to your vehicle that arises from culpable contraventions agai ...
Warranty
Your vehicle is covered under the terms of the warranties printed in the Service and Warranty Information booklet. Your authorized Mercedes-Benz Center will replace and repair all factory-installe ...
Defrosting the windshield
You can use this function to defrost the windshield or to defrost the inside of the windshield and the side windows. Switch off the "defrosting" function as soon as the windshield is c ...