Locking the vehicle (mechanical key)
If the vehicle can no longer be locked with the SmartKey, use the mechanical key.
■ Open the driver's door.
■ Close the front-passenger door, the rear doors and the tailgate.
■ Press the locking button .
■ Check whether the locking knobs on the front-passenger door and the rear doors are still visible. Press down the locking knobs manually, if necessary .
■ Close the driver's door.
■ Take the mechanical key out of the SmartKey .
■ Insert the mechanical key into the lock of the driver's door as far as it will go.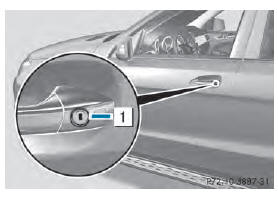 1 To lock
■ Turn the mechanical key clockwise as far as it will go to position 1.
■ Turn the mechanical key back and remove it.
■ Make sure that the doors and the tailgate are locked.
■ Insert the mechanical key into the SmartKey.
If you lock the vehicle as described above, the fuel filler flap is not locked. The antitheft alarm system is not armed.
See also:
Replacing the wiper blades
Important safety notes WARNING For safety reasons, switch off the wipers and remove the SmartKey from the starter switch before replacing a wiper blade. Otherwise, the wiper motor could suddenly ...
AMG menu in AMG vehicles
AMG displays 1 Digital speedometer 2 Gear indicator 3 Upshift indicator 4 Engine oil temperature 5 Coolant temperature 6 Status indicator (indicator not available in USA/Canada) ■ Pres ...
Winter driving
General notes WARNING If you shift down on a slippery road surface in an attempt to increase the engine's braking effect, the drive wheels could lose their grip. There is an increased danger of ...