Opening and closing the side windows
The switches for all side windows are located on the driver's door. There is also a switch on each door for the corresponding side window.
The switches on the driver's door take precedence.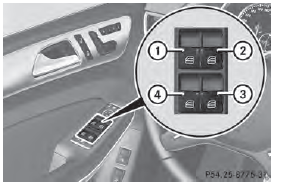 1 Front left
2 Front right
3 Rear right
4 Rear left
■ Turn the SmartKey to position 1 or 2 in the ignition lock.
■ To open: press the corresponding switch.
■ To close: pull the corresponding switch.
If you press the switch beyond the point of resistance, an automatic opening/ closing process is started in the corresponding direction. You can stop automatic operation by operating the switch again.
You can continue to operate the side windows after you switch off the engine or remove the SmartKey. This function is available for up to five minutes or until the driver's or front-passenger door is opened.
The side windows cannot be operated from the rear when the override feature for the side windows is activated .
See also:
Seats
Important safety notes WARNING In order to avoid possible loss of vehicle control, all seat, head restraint, steering wheel and rear view mirror adjustments, as well as fastening of seat belts, ...
Regular checking of wheels and tires
WARNING Regularly check the tires for damage. Damaged tires can cause tire inflation pressure loss. As a result, you could lose control of your vehicle. Worn, old tires can cause accidents. I ...
Treadwear
The treadwear grade is a comparative rating based on the wear rate of the tire when tested under controlled conditions on a specified U.S. government course. For example, a tire graded 150 would w ...