Overview of interior lighting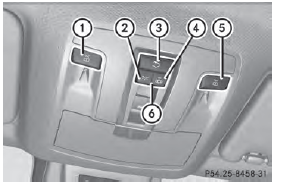 Overhead control panel 1

To switch the left-hand front
reading lamp on/off
2

To switch the front interior
lighting on
3

To switch the rear interior
lighting on/off 4

To switch the front interior
lighting/ automatic interior lighting control off 5

To switch the right-hand front
reading lamp on/off
6 To switch the automatic interior lighting control on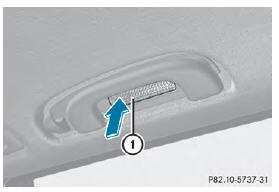 Rear overhead control panel (second row of seats) :1 Switches the reading lamp on/off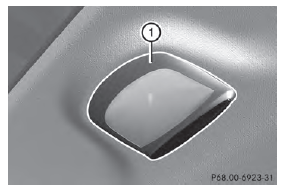 Rear overhead control panel (third row of seats) 1 Reading lamp
See also:
Activating/deactivating the zone function
X To switch on: press the button. The indicator lamp in the button lights up. The temperature setting for the driver's side is not adopted for the front-passenger side and the rear comp ...
Steering wheel heating
Activating/deactivating ■ Make sure that the SmartKey is in position 2 in the ignition lock. ■ To switch on/off: turn the lever in the direction of arrow 1 or 2. Indicator lamp 3 ...
Problems with the transmission
Transfer case Performance tests may only be carried out on a 2-axle dynamometer. The brake system or transfer case could otherwise be damaged. Contact a qualified specialist workshop for a perf ...