Overview of interior lighting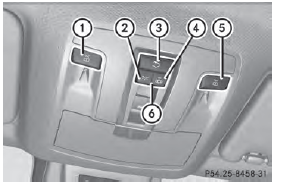 Overhead control panel 1

To switch the left-hand front
reading lamp on/off
2

To switch the front interior
lighting on
3

To switch the rear interior
lighting on/off 4

To switch the front interior
lighting/ automatic interior lighting control off 5

To switch the right-hand front
reading lamp on/off
6 To switch the automatic interior lighting control on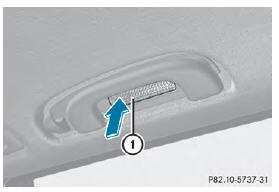 Rear overhead control panel (second row of seats) :1 Switches the reading lamp on/off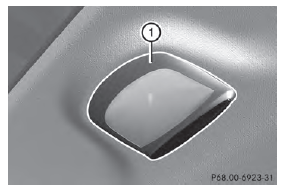 Rear overhead control panel (third row of seats) 1 Reading lamp
See also:
General driving tips
Important safety notes WARNING Always remember that you must concentrate primarily on driving the vehicle. The driver's concentration must always be directed primarily at road traffic. For your o ...
Setting the air distribution
Air distribution settings Front control panel Directs the airflow through the center vents Directs air through the footwell air vents Directs the airflow through the center and footwell v ...
Important safety notes
WARNING Only use fuses that have been approved for Mercedes-Benz vehicles and that have the correct fuse rating for the systems concerned. Do not attempt to repair or bridge faulty fuses. Using f ...