Control panel for 3-zone automatic climate control with additional rearcompartment climate control
Canada only
Front control panel
1 Sets the temperature, left 2 Defrosts the windshield 3 Switches the ZONE function on/off 4 Activates/deactivates cooling with air dehumidification or activates/ deactivates the residual heating function 5 Switches the rear window defroster on/off 6 Sets the temperature, right 7 Switches rear-compartment climate control on/off 8 Switches climate control on/off 9 Sets the air distribution 10 Increases the airflow 11 Reduces the airflow 12 Display
13 Adjusts the climate control settings 14 Activates/deactivates air-recirculation mode 15 Sets climate control to automatic
Rear control panel
16 Increases the airflow 17 Sets the temperature 18 Sets rear-compartment climate control to automatic 19 Directs the airflow through the rear air vents 20 Directs the airflow through the footwell vents 21 Switches rear-compartment climate control on/off 22 Reduces the airflow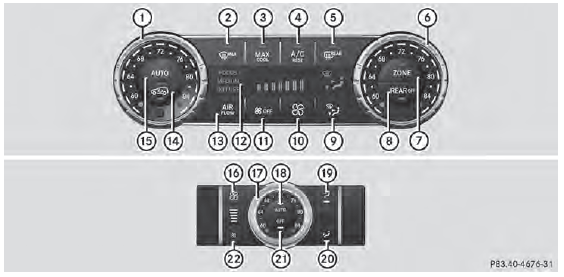 USA only
Front control panel
1 Sets the temperature, left 2 Defrosts the windshield 3 Switches maximum cooling MAX COOL on/off 4 Activates/deactivates cooling with air dehumidification or activates/ deactivates the residual heating function 5 Switches the rear window defroster on/off 6 Sets the temperature, right 7 Switches the ZONE function on/off 8 Switches rear-compartment climate control on/off 9 Sets the air distribution 10 Increases the airflow 11 Reduces the airflow or switches off climate control 12 Display
13 Adjusts the climate control settings 14 Activates/deactivates air-recirculation mode 15 Sets climate control to automatic
Rear control panel
16 Increases the airflow 17 Sets the temperature 18 Sets rear-compartment climate control to automatic 19 Directs the airflow through the rear air vents 20 Directs the airflow through the footwell vents 21 Switches rear-compartment climate control on/off 22 Reduces the airflow
See also:
AMG adaptive sport suspension system
Important safety notes WARNING When the vehicle is being lowered, people could become trapped if their limbs are between the vehicle body and the wheels or underneath the vehicle. There is a risk ...
Immobilizer
► To activate: remove the SmartKey from the ignition lock. ► To deactivate: switch on the ignition. The immobilizer prevents your vehicle from being started without the correct Smart ...
Symbols
Registered trademarks: Х BluetoothЃ is a registered trademark of Bluetooth SIG Inc. Х DTS is a registered trademark of DTS, Inc. Х Dolby and MLP are registered trademarks of DOLBY Laboratories. ...