Control panel for 3-zone automatic climate control with additional rearcompartment climate control
Canada only
Front control panel
1 Sets the temperature, left 2 Defrosts the windshield 3 Switches the ZONE function on/off 4 Activates/deactivates cooling with air dehumidification or activates/ deactivates the residual heating function 5 Switches the rear window defroster on/off 6 Sets the temperature, right 7 Switches rear-compartment climate control on/off 8 Switches climate control on/off 9 Sets the air distribution 10 Increases the airflow 11 Reduces the airflow 12 Display
13 Adjusts the climate control settings 14 Activates/deactivates air-recirculation mode 15 Sets climate control to automatic
Rear control panel
16 Increases the airflow 17 Sets the temperature 18 Sets rear-compartment climate control to automatic 19 Directs the airflow through the rear air vents 20 Directs the airflow through the footwell vents 21 Switches rear-compartment climate control on/off 22 Reduces the airflow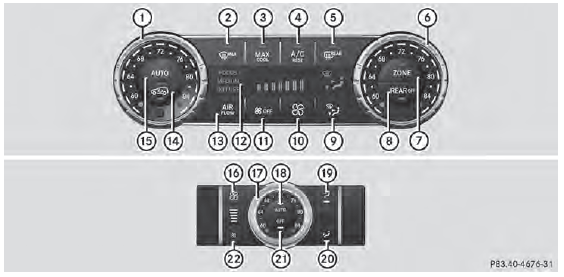 USA only
Front control panel
1 Sets the temperature, left 2 Defrosts the windshield 3 Switches maximum cooling MAX COOL on/off 4 Activates/deactivates cooling with air dehumidification or activates/ deactivates the residual heating function 5 Switches the rear window defroster on/off 6 Sets the temperature, right 7 Switches the ZONE function on/off 8 Switches rear-compartment climate control on/off 9 Sets the air distribution 10 Increases the airflow 11 Reduces the airflow or switches off climate control 12 Display
13 Adjusts the climate control settings 14 Activates/deactivates air-recirculation mode 15 Sets climate control to automatic
Rear control panel
16 Increases the airflow 17 Sets the temperature 18 Sets rear-compartment climate control to automatic 19 Directs the airflow through the rear air vents 20 Directs the airflow through the footwell vents 21 Switches rear-compartment climate control on/off 22 Reduces the airflow
See also:
Important safety notes
If you fail to adapt your driving style or become distracted, the driving safety systems can neither reduce the risk of accident nor override the laws of physics. Driving safety systems are mere ...
Instruction labels for tires and loads
WARNING Overloaded tires can overheat, causing a blowout. Overloaded tires can also impair the steering and driving characteristics and lead to brake failure. There is a risk of accident. Obser ...
Infrared reflective windshield
The infrared reflecting glass prevents the vehicle interior from becoming too hot. It also blocks radio waves up into the gigahertz range. To enable operation of radio-controlled equipment, e ...