Problems with the transmission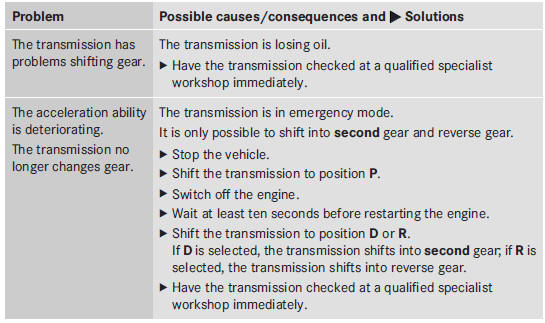 Transfer case
Performance tests may only be carried out on a 2-axle dynamometer. The brake system or transfer case could otherwise be damaged. Contact a qualified specialist workshop for a performance test.
Because ESPЃ is an automatic system, the engine and ignition must be switched off (SmartKey in position 0 or 1 or Start/ Stop button in position 0 or 1) when the electric parking brake is being tested on a brake dynamometer (maximum 10 seconds).
Braking triggered automatically by ESPЃ may seriously damage the brake system.
Vehicles with 4MATIC must not be towed with either the front or the rear axle raised, as doing so will damage the transmission.
This section is only valid for vehicles with 4- wheel drive (4MATIC). Power is always transmitted to both axles.
See also:
Change of address or change of ownership
In the event of a change of address, please send us the "Notification of Address Change" in the Service and Guarantee booklet or simply call the Mercedes-Benz Customer Assistance Center ...
Adjusting the steering wheel electrically
1 To adjust the steering wheel height 2 To adjust the steering wheel position (fore-and-aft adjustment) The steering wheel can also be adjusted when the SmartKey is removed from the ignition lo ...
Correct driver's seat position
WARNING You could lose control of your vehicle if you do the following while driving: Х adjust the driver's seat, head restraint, steering wheel or mirrors Х fasten the seat belt There is a risk ...