Problems with the transmission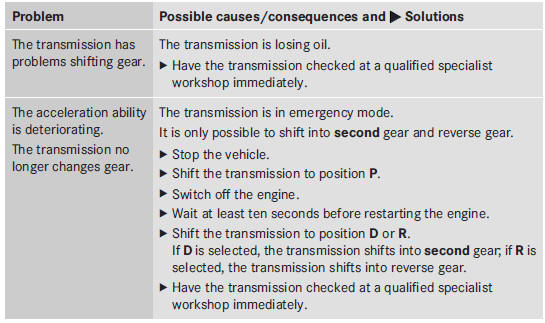 Transfer case
Performance tests may only be carried out on a 2-axle dynamometer. The brake system or transfer case could otherwise be damaged. Contact a qualified specialist workshop for a performance test.
Because ESP® is an automatic system, the engine and ignition must be switched off (SmartKey in position 0 or 1 or Start/ Stop button in position 0 or 1) when the electric parking brake is being tested on a brake dynamometer (maximum 10 seconds).
Braking triggered automatically by ESP® may seriously damage the brake system.
Vehicles with 4MATIC must not be towed with either the front or the rear axle raised, as doing so will damage the transmission.
This section is only valid for vehicles with 4- wheel drive (4MATIC). Power is always transmitted to both axles.
See also:
Important safety notes
WARNING Very hot or very cold air can flow from the air vents. This could result in burns or frostbite in the immediate vicinity of the air vents. There is a risk of injury. Make sure that all ...
Selector lever
Overview of transmission po If the engine speed is too high or if the vehicle is rolling, do not shift the transmission directly from D to R, from R to D or directly to P. Do not open the drive ...
Important safety notes
WARNING Severe conditions (e.g. strong air pollution) may require replacement of the filter before its scheduled replacement interval. A clogged filter will reduce the air volume to the interior ...