Problems with the transmission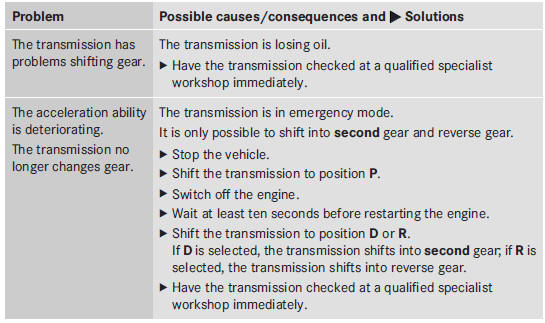 Transfer case
Performance tests may only be carried out on a 2-axle dynamometer. The brake system or transfer case could otherwise be damaged. Contact a qualified specialist workshop for a performance test.
Because ESP® is an automatic system, the engine and ignition must be switched off (SmartKey in position 0 or 1 or Start/ Stop button in position 0 or 1) when the electric parking brake is being tested on a brake dynamometer (maximum 10 seconds).
Braking triggered automatically by ESP® may seriously damage the brake system.
Vehicles with 4MATIC must not be towed with either the front or the rear axle raised, as doing so will damage the transmission.
This section is only valid for vehicles with 4- wheel drive (4MATIC). Power is always transmitted to both axles.
See also:
Operating the roller sunblinds for the panorama roof with power tilt/sliding panel
Important safety notes WARNING When opening or closing the roller sunblind, parts of the body could be trapped between the roller sunblind and the frame or sliding sunroof. There is a risk of inj ...
Storing the ball coupling
WARNING Do not carry the ball coupling in the vehicle interior if it is not secured. Otherwise, you and others could be injured by the ball coupling being thrown around if you: • brake sharply ...
M+S tires
WARNING M+S tires with a tire tread depth of less than in (4 mm) are not suitable for use in winter and do not provide sufficient traction. There is a risk of an accident. M+S tires with a tr ...