Vehicle tool kit
General notes
The vehicle tool kit can be found in the stowage well under the cargo compartment floor.
Apart from certain country-specific variations, the vehicles are not equipped with a tire-change tool kit. Some tools for changing a wheel are specific to the vehicle. For more information on which tools are required to perform a wheel change on your vehicle, consult a qualified specialist workshop.
Tools required for changing a wheel may include, for example:
Х Jack Х Wheel chock Х Lug wrench Х Ratchet wrench Х Alignment bolt
Vehicles with a TIREFIT kit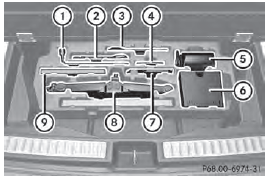 1 Lug wrench
2 Towing eye
3 Ratchet wrench
4 Alignment bolt
5 Tire sealant filler bottle 6 Tire inflation compressor 7 Folding wheel chock
8 Jack
9 Wheel bolts
■ Lift the cargo compartment floor up .
■ Use the TIREFIT kit .
Vehicles with a "Minispare" emergency spare wheel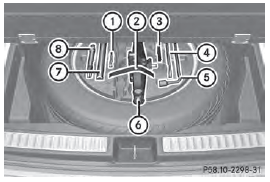 1 Alignment bolt
2 Velcro fastener
3 Folding wheel chock
4 Ratchet wrench
5 Lug wrench
6 Jack
7 Wheel bolts
8 Towing eye
■ Lift the cargo compartment floor up .
See also:
Unlocking and opening doors from the inside
If the vehicle has previously been locked with the SmartKey, opening a door from the inside will trigger the anti-theft alarm system. Switch off the alarm . Only open the door when the traffic ...
Vehicle identification plate
Even if you have calculated the total cargo carefully, you should still make sure that the gross vehicle weight rating and the gross axle weight rating are not exceeded. Details can be found on the ...
Identification plates
Vehicle identification plate with vehicle identification number (VIN) and paint code number Ц Open the driver's door. You will see vehicle identification plate 1. Example: vehicle identif ...