Adjusting the 4-way lumbar support
You can adjust the contour of the front seat backrests individually to provide optimum support for your back.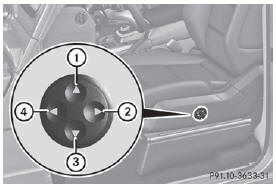 1 To raise the backrest contour 2 To soften the backrest contour 3 To lower the backrest contour 4 To harden the backrest contour
See also:
Instruction labels for tires and loads
WARNING Overloaded tires can overheat, causing a blowout. Overloaded tires can also impair the steering and driving characteristics and lead to brake failure. There is a risk of accident. Obser ...
Notes on towing a trailer
Important safety notes WARNING If you install a ball coupling other than the one delivered with the vehicle, the trailer tow hitch and the rear axle may be overloaded. This applies especially if ...
Direction of rotation
Tires with a specified direction of rotation have additional benefits, e.g. if there is a risk of hydroplaning. You will only gain these benefits if the correct direction of rotation is observed. ...