Control panel for dual-zone automatic climate control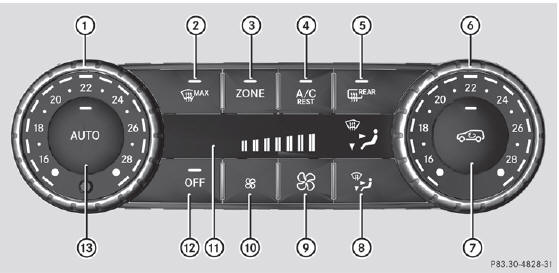 Canada only
1 Sets the temperature, left 2 Defrosts the windshield 3 Switches the ZONE function on/off 4 Activates/deactivates cooling with air dehumidification 5 Switches the rear window defroster on/off 6 Sets the temperature, right 7 Activates/deactivates air-recirculation mode 8 Sets the air distribution 9 Increases the airflow 10 Reduces the airflow
11 Display
12 Switches climate control on/off 13 Sets climate control to automatic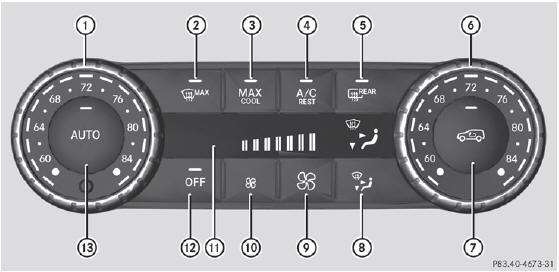 USA only
1 Sets the temperature, left 2 Defrosts the windshield 3 Switches maximum cooling MAX COOL on/off 4 Activates/deactivates cooling with air dehumidification 5 Switches the rear window defroster on/off 6 Sets the temperature, right 7 Activates/deactivates air-recirculation mode 8 Sets the air distribution 9 Increases the airflow 10 Reduces the airflow
11 Display
12 Switches climate control on/off 13 Sets climate control to automatic
See also:
Important safety notes
WARNING Modifications to or work improperly conducted on restraint system components or their wiring, as well as tampering with interconnected electronic systems, can lead to the restraint system ...
Shift ranges
Introduction In transmission position D, you can use the steering wheel paddle shifters to restrict or derestrict the shift range for the automatic transmission . The shift range selected i ...
Unlocking and opening doors from the inside
If the vehicle has previously been locked with the SmartKey, opening a door from the inside will trigger the anti-theft alarm system. Switch off the alarm . Only open the door when the traffic ...