Control panel for dual-zone automatic climate control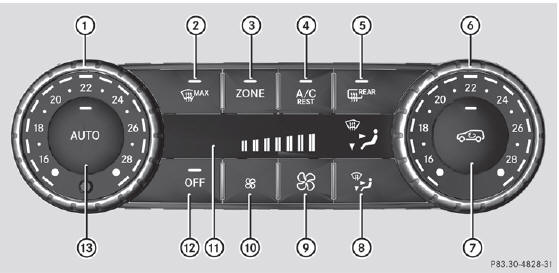 Canada only
1 Sets the temperature, left 2 Defrosts the windshield 3 Switches the ZONE function on/off 4 Activates/deactivates cooling with air dehumidification 5 Switches the rear window defroster on/off 6 Sets the temperature, right 7 Activates/deactivates air-recirculation mode 8 Sets the air distribution 9 Increases the airflow 10 Reduces the airflow
11 Display
12 Switches climate control on/off 13 Sets climate control to automatic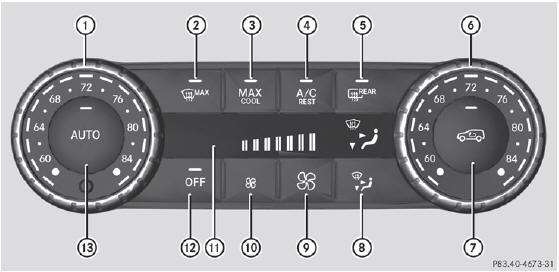 USA only
1 Sets the temperature, left 2 Defrosts the windshield 3 Switches maximum cooling MAX COOL on/off 4 Activates/deactivates cooling with air dehumidification 5 Switches the rear window defroster on/off 6 Sets the temperature, right 7 Activates/deactivates air-recirculation mode 8 Sets the air distribution 9 Increases the airflow 10 Reduces the airflow
11 Display
12 Switches climate control on/off 13 Sets climate control to automatic
See also:
General notes
In order to ensure the direct flow of fresh air through the air vents into the vehicle interior, please observe the following notes: • keep the air intake grill on the hood free of blockages, such ...
Changing the settings of the locking system
You can change the setting of the locking system in such a way that only the driver's door and the fuel filler flap are unlocked. This is useful if you frequently travel on your own. If the sett ...
Attention assist
Important safety notes Attention assist is only an aid to the driver. It might not always recognize fatigue or increasing inattentiveness in time or fail to recognize them at all. The system is no ...