Control panel for dual-zone automatic climate control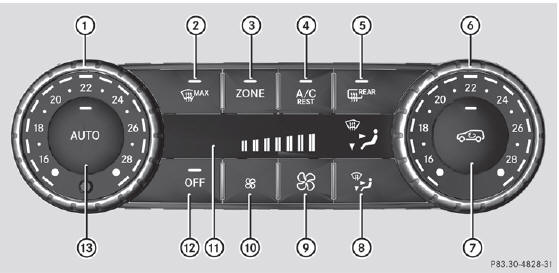 Canada only
1 Sets the temperature, left 2 Defrosts the windshield 3 Switches the ZONE function on/off 4 Activates/deactivates cooling with air dehumidification 5 Switches the rear window defroster on/off 6 Sets the temperature, right 7 Activates/deactivates air-recirculation mode 8 Sets the air distribution 9 Increases the airflow 10 Reduces the airflow
11 Display
12 Switches climate control on/off 13 Sets climate control to automatic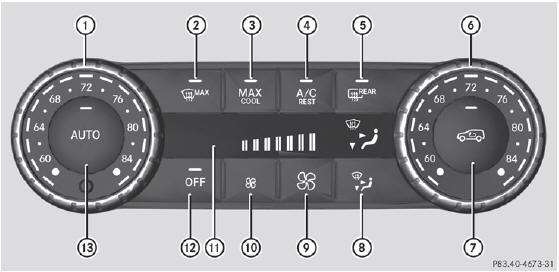 USA only
1 Sets the temperature, left 2 Defrosts the windshield 3 Switches maximum cooling MAX COOL on/off 4 Activates/deactivates cooling with air dehumidification 5 Switches the rear window defroster on/off 6 Sets the temperature, right 7 Activates/deactivates air-recirculation mode 8 Sets the air distribution 9 Increases the airflow 10 Reduces the airflow
11 Display
12 Switches climate control on/off 13 Sets climate control to automatic
See also:
Instrument cluster
Displays and controls 1 Speedometer with segments 2 Multifunction display 3 Tachometer 4 Coolant temperature 5 Fuel gauge 6 Instrument cluster lighting brightness control: turn clockwise or c ...
Trip menu
Standard display ■ Press and hold the button on the steering wheel until the Trip menu with trip odometer 1 and odometer 2 is shown. Trip computer "From Start" or "From ...
Jump-starting
WARNING Battery acid is caustic. There is a risk of injury. Avoid contact with the skin, eyes or clothing. Do not inhale any battery gases. Do not lean over the battery. Keep children away from ...