Refueling
Fuel filler flap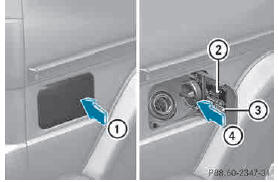 Example: G 550 fuel filler cap
1 To open the fuel filler flap 2 Tire pressure table
3 Fuel type
4 To insert the fuel filler cap
When you open or close the vehicle with the SmartKey, the fuel filler flap is automatically unlocked or locked.
The position of the fuel filler cap is displayed
in the instrument cluster. The
arrow next to the filling pump indicates the side of the vehicle. The fuel filler flap is located to the rear on the right.
Opening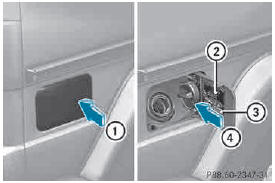 1 To open the fuel filler flap 2 Tire pressure table
3 Fuel type
4 To insert the fuel filler cap
► Switch off the engine.
When the engine is running and the fuel filler flap is open, the yellow reserve fuel warning lamp and the = (USA only) or 2 (Canada only) Check Engine warning lamp may light up.
Further information about warning and indicator lamps in the instrument cluster can be found in the Digital Operator's Manual.
► Remove the SmartKey from the ignition lock.
► Press the fuel filler flap in the direction of arrow 1.
The fuel filler flap opens slightly.
► Open the fuel filler flap.
► Turn the fuel filler cap counterclockwise and remove it.
► Insert the fuel filler cap into the holder bracket on the inside of filler flap 4.
► Completely insert the filler neck of the fuel pump nozzle into the tank and refuel.
Do not add any more fuel after the pump stops filling for the first time. Otherwise, fuel may leak out.
Closing
► Replace the fuel filler cap and turn it clockwise. The fuel filler cap audibly engages.
► Close the fuel filler flap.
Close the fuel filler flap before locking the vehicle. A locking pin otherwise prevents the fuel filler flap from closing after the vehicle has been locked.
See also:
Hazard warning lamps
► To switch on the hazard warning lamps: press button 1. All turn signals flash. If you now switch on a turn signal using the combination switch, only the turn signal lamp on the corres ...
DEF
Important safety notes Comply with the important safety notes for service products when handling DEF . DEF is a water-soluble fluid for the exhaust gas aftertreatment of diesel engines. It ...
Driving on wet roads
Do not drive through flooded areas. Check the depth of any water before driving through it. Drive slowly through standing water. Otherwise, water may enter the vehicle interior or the engine com ...