Stowage space
Important safety notes
WARNING
To help avoid personal injury during a collision or sudden maneuver, exercise care when storing objects in the vehicle. Put luggage or cargo in the cargo compartment if possible.
Do not pile luggage or cargo higher than the seat backrests.
Keep compartment lids closed. This will help to prevent stored objects from being thrown about and injuring vehicle occupants during Х braking Х vehicle maneuvers Х an accident
Stowage compartments in the front
Glove box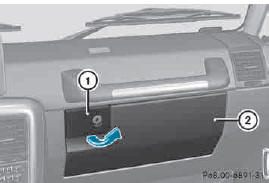 ► To open: pull handle 1 and open glove box flap 2.
► To close: fold glove box flap 2 upwards until it engages.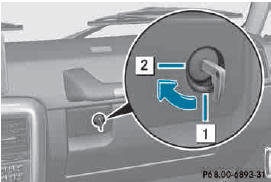 1 Glove box unlocked
2 Glove box locked
► To lock: insert the mechanical key into the lock and turn it 90∞ clockwise to position 2.
► To unlock: insert the mechanical key into the lock and turn it 90∞ counter-clockwise to position 1.
The glove box can only be locked and unlocked using the mechanical key.
Stowage compartment/telephone compartment under the armrest/in the center console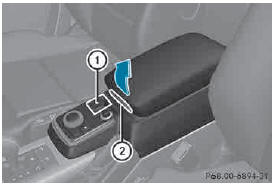 1 Small stowage compartment 2 Release button for the armrest
Stowage compartment/telephone compartment under the armrest X To open: press button 2.
► Fold up armrest.
In the stowage compartment, there is a stowage tray.
► To close: fold the armrest down.
The armrest engages audibly.
Stowage space in the rear
Stowage poc
WARNING
Storage bags are intended for storing lightweight items only.
Heavy objects, objects with sharp edges or fragile objects may not be transported in the storage bag. In an accident, during hard braking, or sudden maneuvers, they could be thrown around inside the vehicle and cause injury to vehicle occupants.
Storage bags cannot protect transported goods in the event of an accident.
The stowage pockets are located on the rear side of the front seats.
See also:
General notes
Important safety notes WARNING If you switch off the ignition while driving, safety-relevant functions are only available with limitations, or not at all. This could affect, for example, the powe ...
Windshield washer system
Important safety notes WARNING Windshield washer concentrate is highly flammable. If it comes into contact with hot engine components or the exhaust system it could ignite. There is a risk of fir ...
Jump-starting
WARNING Failure to follow these directions will cause damage to the electronic components, and can lead to a battery explosion and severe injury or death. Never lean over batteries while connecti ...