Stowage nets
WARNING
Vehicles with the Occupant Classification System (OCS): If the gross weight of the objects in the stowage net on the back of the frontpassenger seat is greater than 4.4 lb (2 kg), OCS cannot correctly assess the occupant's weight category. The front-passenger front air bag could deploy without cause, or may fail to deploy in the event of an accident. This poses an increased risk of injury or even fatal injury.
Never exceed the permissible gross weight of 4.4 lb (2 kg). Stow and secure heavy objects in the cargo compartment.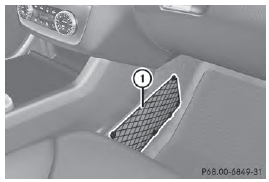 1 Stowage net in front-passenger footwell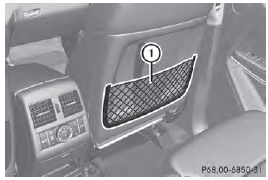 1 Stowage net on the back of the front seats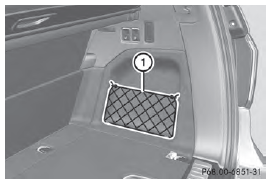 1 Stowage net in cargo compartmentObserve the loading guidelines and the safety notes regarding stowage spaces .
See also:
Driving with summer tires
At temperatures below 45 º F (+7 º C), summer tires lose elasticity significantly, and therefore traction and braking power as well. Change the tires on your vehicle to M+S tires. Usin ...
Important safety notes
WARNING Very hot or very cold air can flow from the air vents. This could result in burns or frostbite in the immediate vicinity of the air vents. There is a risk of injury. Make sure that all ...