Adjusting the steering wheel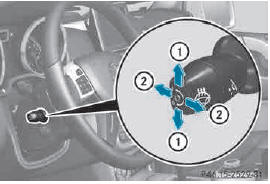 1 To adjust the steering wheel height 2 To adjust the steering wheel position (fore-and-aft adjustment)
If the driver's door is open, the steering wheel can be adjusted for up to 30 minutes after the ignition has been switched off.
Further related subjects: REASY-ENTRY/EXIT feature RStoring settings
See also:
Instruction labels for tires and loads
WARNING Overloaded tires can overheat, causing a blowout. Overloaded tires can also impair the steering and driving characteristics and lead to brake failure. There is a risk of accident. Obser ...
Driving tips
Kickdown Use kickdown for maximum acceleration: ■ Depress the accelerator pedal beyond the pressure point. The transmission shifts to a lower gear depending on the engine speed. ■ ...
General notes
Environmental note Dispose of empty packaging and cleaning cloths in an environmentally responsible manner. For cleaning your vehicle, do not use any of the following: • dry, rough or hard cloth ...