Adjusting the steering wheel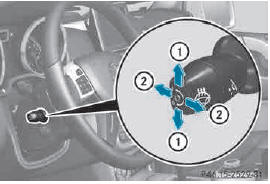 1 To adjust the steering wheel height 2 To adjust the steering wheel position (fore-and-aft adjustment)
If the driver's door is open, the steering wheel can be adjusted for up to 30 minutes after the ignition has been switched off.
Further related subjects: REASY-ENTRY/EXIT feature RStoring settings
See also:
Underinflated or overinflated ti
Underinflation WARNING Tires with pressure that is too low can overheat and burst as a consequence. In addition, they also suffer from excessive and/ or irregular wear, which can severely impair ...
Additional service products
Checking the coolant level WARNING In order to avoid potentially serious burns: • use extreme caution when opening the hood if there are any signs of vapor or coolant leaking from the cooling sys ...
Activating/deactivating the residual heat function
The "residual heat" function is only available in Canada. It is possible to make use of the residual heat of the engine to continue heating the stationary vehicle for up to 30 minutes ...